PERFORMANCE MANAGEMENT
Achieving Associate Accountability
Performance Management is done in easily customizable Associate Goal Cards (AGC). AGCs align associate level goals with their higher level strategic initiatives. Associate level goals are Aligned, Assigned, Managed and Achieved by V2R Strategy Management.
V2R Performance Management translates an organization's aligned strategies into lower level associate centric goals. This translation requires the concise definition of each goal's scope.
Performance Management utilizes the reams of data made available by today's ERP systems to identify improvement opportunities. Once identified, a root cause analysis is performed that drives corrective action plans.
The AGC is easily customized for each Division in an organization. The AGC drives the alignment, assignment, management and ultimate achievement for all associate level goals that hold everyone accountable to achieve "No Excuses" results.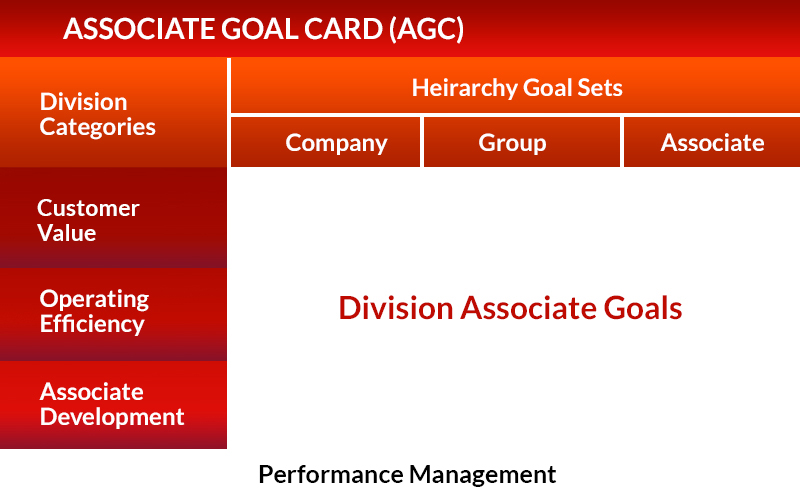 Goal Alignment assures that each Division's selected strategies are translated into lower level associate goals. V2R aligns a Division's strategies appearing in their Division Goal Card (DGC) with a custom tailored Associate Goal Card (AGC).
The ACG is set up like a spreadsheet. Goal Sets appear as columns in the AGC and are used to align Division, Group (i.e. Department) and Associate level goals. Division level goals are automatically cascaded across the Division. Group level goals are automatically cascaded across each Group. Associate level goals are assigned to each associate.
Goal Categories appear as rows and are used to group like goals. Goal Categories are easily customized for each Division. Customer Value, Operating Efficiency and Associate Development are examples of good Categories. Each selected associate level goal is added to the AGC based on its corresponding Division, Group or Associate Level (column) and Category (row).
Goal Assignment in V2R is also done on Associate Goal Cards (AGCs). Division strategies that have been translated into aligned goals are properly assigned to associates that are capable of achieving them in a timely and cost effective manner.
V2R recommends the assignment of both a Manager and Owner to each assigned goal. They share joint responsibility for the goal's achievement, but are each held accountable for their specific roles in the Performance Management process.
Managers define the initial goal's scope, assign the Owner, obtain required resources and review ongoing progress. They have secondary responsibility for the goal's timely and cost effective achievement.  Owners on the other hand, are assigned by the Managers to achieve the scoped requirements.  Owners are responsible for finalizing the scope, managing ongoing progress and achieving all requirements.
The AGC drives the alignment, assignment and management for all associate level goals holding everyone accountable for achieving "No Excuses" results.
Goal Management occurs when the Manager of an assigned goal monitors the ongoing progress of the Owner assigned to achieve it. Goal Managers and Owners are jointly responsible for identifying deviations from plan and implementing the corrective actions required to achieve its scoped requirements. This dual responsibility for all associate level goals greatly improves the chances for timely and efficient achievement.
Ongoing meetings should be held between the Manager and Owner of all associate centric goals. Minutes from these ongoing review meetings should document past actions, current risks and future plans that ultimately lead to the successful achievement of each goal. The AGC not only functions as the agenda for these regular review meetings, it is also the repository for documenting the discussions that occur. These documented discussions provide feedback and double as contemporaneous meeting minutes.
How often during an associate's performance review are their disagreements with the boss about what should have done, or how well was it done? These disagreements indicate that the organization's Performance Management process is not working well.
AGCs greatly improve and simplify the Performance Management process. AGCs assure that all goals have been aligned with their Division's strategy, assigned to competent associates and managed on a contemporaneous basis.  When a goal is completed it is assessed immediately, not at the end of the year.  It is assessed based on the custom tailored rating scale that quantifies the associate's level of achievement attained.  A common rating scale is used for all metric and subjectively assessed goals. Because a common rating scale is used for all goals, calculation of an associate's overall performance rating, similar to a Grade Point Average (GPA) can be used to fairly drive the Performance Management process that holds everyone accountable to achieve "No Excuses" results. Selected Stakeholders can also rate the goal Owner's performance to improve the integrity of subjectively assessed goals.